A Serengeti Safari at the Bilila Lodge Kempinski in Tanzania
---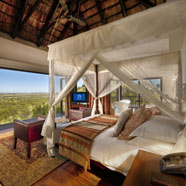 My first trip to Tanzania was a short one. I walked onto the bridge separating the massive East African country from its neighbor and my then home base, Rwanda, admired the powerful
Chutes de Rusumo
below, and then took a few steps on the other side just to say I'd been there before scampering back. I didn't have my passport, nor a visa, so a few steps into the green grass on the other side of the bridge was all I could get away with. Two years later, I returned to Tanzania, and did so in style. Safari-style!
Visiting the Serengeti National Park was like stepping into a movie set. Surreal, wonderful, and filled with wild game that walked within a few steps of the Landrover. A once in a lifetime experience!
There are several magnificent places to stay on your next safari, but few exceed the excellence of the Bilila Lodge Kempinski, located in the heart of Serengeti in Tanzania. Luxury oozes from the spacious rooms with views out over the African savanna. It's common to wake up and see antelope and zebra grazing in the tall grasses in front of the property. All from the comfort of your room!
One more thing: This place is beyond beautiful. Take a look for yourself, and indulge yourself with a safari and stay at the Bilila Lodge Kempinski.
---