New Hotel Amenities: Order Room Service on an iPad
---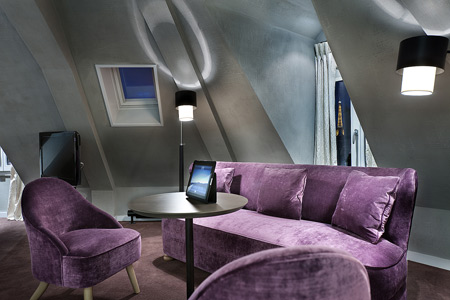 When we toured the new Pavillon des Lettres in Paris-- a new hotel with a literary theme-- we were thrilled to see that each of the 26 rooms, named for a different writer, comes with an iPad. This fine hotel isn't alone in the industry in offering this coveted new amenity. According to the USA Today Hotel Check-In blog, more and more hotels are distributing iPads to guests for ordering room service:

Hoping to generate more food and beverage sales and reduce the need for staffers, a growing number of hotels are providing the popular tablet computer to guests in their rooms. An app, developed by Orlando-based Intelity and downloaded on the device, allows guests to order food, browse hotel amenities and local attractions, request wake-up calls, schedule housekeeping, message hotel staffers or other guests, and arrange car service. Flight information and 5-day weather are also shown, as are targeted ads based on guests' rates and preferences information.
Upscale hotels providing iPads include The Plaza, Mondrian SoHo, and Royalton Hotel in New York.
---