Best Luxury Hotels in Casablanca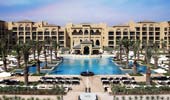 A unique resort destination, Mazagan offers a variety of accommodation and activities choices: Rooms with breathtaking views on...
Cool and avant-garde on the beachfront of Morocco's largest city, Four Seasons Hotel Casablanca enjoys a prestigious resort-style...
Le Royal Mansour Casablanca is currently closed for an extended renovation.
Le Royal Mansour, formerly Le Royal Mansour...