Best Luxury Hotels in Punta Del Este
The hotel is currently closed and undergoing a renovation and expansion.
Capturing the unique personality of Punta del...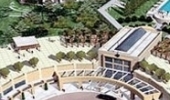 Mantra Resort Spa & Casino is one of the few world-class 5 star hotels in Uruguay, offering a unique combination of comfort and...
Situated in the heart of this exclusive resort, known for the beauty of its natural surroundings, crystal-clear ocean waters,...