The
search_hotel_count

Best Luxury Hotels in Santa Cruz Huatulco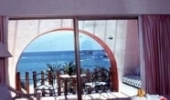 5 Star Alta Hoteleria Magazine Calls The Camino Real Zaashila Hotel "One Of The Most Beautiful Beach Resorts...
The Barceló Huatulco Beach hotel, is one of the most prestigious hotels in the area. Situated in the bay...
Here along the pacific coast of Oaxaca in southern Mexico lie the 34 pristine beaches and nine unspoiled Bays...
Inspired by The Arabian Nights, this oasis of tranquility and privacy, poised on a hillside overlooking Tangolunda...
As though carved into the foothills of the coastline where it hugs the glistening shores of the Conejos Bay,...