41 Reasons to Stay at the 41 Hotel: #1 It Could Be Free!
---
The 41 Hotel in London is a little like the Radiohead of the hotel world.  Mixing contemporary electronics with classic themes, they are always pushing the boundaries of what to expect.  This English property is becoming internationally renowned, and we're not really sure why they're so good at what they do, but they consistently deliver an original and off-beat experience that leaves you wanting to return.
And like a best friend coming to offer you free concert tickets, Five Star Alliance is proud to announce that as part of expanding the way in which we interact with our fans, we're giving away a chance to stay at the 41 Hotel for three nights for free!  To enter, simply like us on Facebook, and if you win, you'll be able to stay at the 41, or two nights at The Carlyle in New York, depending on which city strikes your fancy.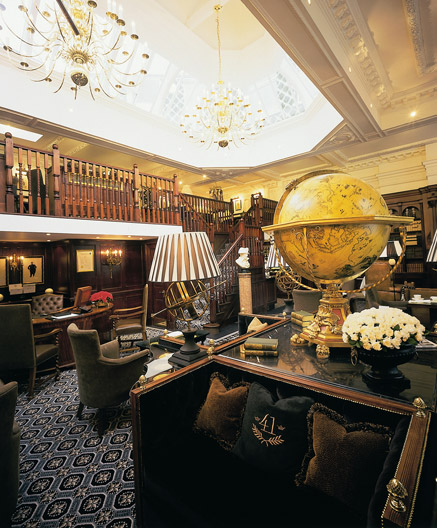 1. It's called the 41.  If it's possible for a hotel name to be cool, they've managed it.
2. Awarded Best London Hotel by TripAdvisor in the 2011 Traveler's Choice  Awards.
3. The contemporary decor mixes stark, pure hues of black and white with rich mahogany to create a feel that is both cutting edge and timeless.  Honestly one of my favorite design choices of any hotel, anywhere.
4. Located opposite Buckingham palace, the views are simply royal in quality.
5. With a ratio of 2 staff to every guest, not only is their service exceptionally personal, they beat out Harvard's student-faculty ratio by 14 times.
6. Work out or let it all out with a complimentary day pass to the nearby LA Fitness Spa and Health Club where you can enjoy the sauna, spa, swimming pool, and state-of-the-art exercise equipment and even book a personal trainer.
7. The crown jewel Master Suite allows you to gaze upward at the stars through a glass ceiling that traps in the heat as well as it lets out your imagination.
8. A romantic turndown, available on request, leaves a touch of lavender perfume on your pillows and candles floating in the bathtub.
9. A pet concierge.  That's a concierge, for your pet. I don't know why I'd need it, but now I definitely want it.
10. Most of the rooms feature working fireplaces.
11. Once the Executive Lounge shuts down for the evening, feel free to Plunder the Pantry for free snacks and drinks.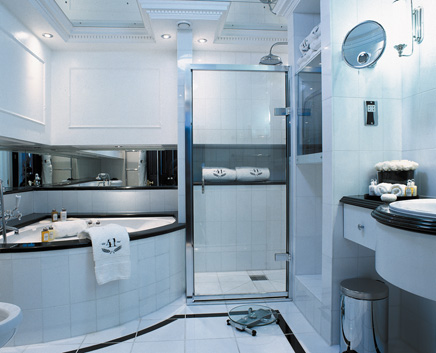 12.  New York Times Syndicate declared that "No better cocoon in England's capital exists."
13.  Executive hospitality suite allows you to separate business and pleasure in your own room, with two separate entrances and a distinct meeting space, you can keep the utmost professional atmosphere.
14. Every room brings a unique touch to the black-and-white themed decor.
15. Formerly the grand ballroom of the nearby Rubens at the Palace, 41 decided that wasn't quite opulent enough, and converted itself into an exclusive residents-only boutique hotel.  It's almost like the entire hotel is a VIP room.
16. Similarly, the Executive Lounge that features as the centerpiece of the hotel allows only residents.
17. The nearby Rubens, however, does not offer the same exclusivity and its famed restaurant, the Library serves the highest quality English food and is open to guests of 41 and can even be charged to your room.  If you were ever to try at Yorkshire pudding, this would be the place.
18. The Leopard Champagne Bar is no less than what you expect, and you can feel free to cozy up to a surprisingly tasteful leopard-print pillow will sipping on the finest champagne and cognac.
19. The sunlit glass roof of the lounge is guaranteed to brighten your morning brunch, served until 1pm on Sundays.
20. Rooms are tech-savvy, featuring iPod docking stations, LCD tvs, and just about anything else you could require.
21. Whether for business or pleasure, there's free wired internet in every bedroom and wireless throughout the hotel.
22. Choose an aromatherapy pillow from their exclusive pillow menu.  I recommend the extra-soft, which goes perfectly with the fruity overtones of a Riesling or Pinot Grigio.
23. Their pet services from the aforementioned concierge are so comprehensive, at first I thought they were pulling my leg. On check-out, you can even receive a framed photo of your pet along with a certificate of stay.
24. If you're looking to host an event, look no further than the personalized Event Coordinator, who will sort out all the personal touches to a memorable celebration.
25. Fuzzy slippers for ladies and gentlemen.
26. A welcome drink on arrival helps you settle in.
27. Split-level suites offer maximum comfort and spaciousness if you're looking to take your vacation to especially lofty heights.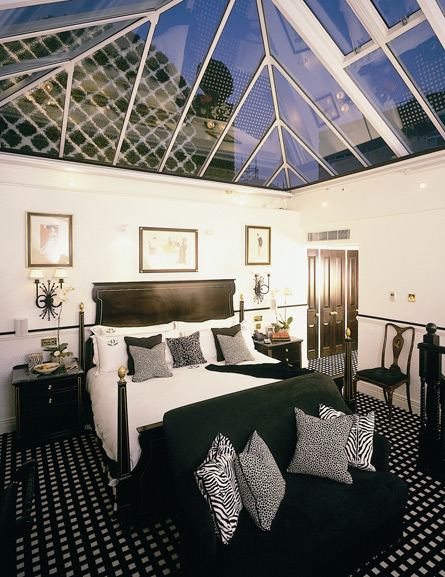 28. In-room massage for when you need to be so relaxed that you don't have to even move.
29. If you're carrying a bouncing baby, rock them to sleep in available baby cots
30. Some rooms face the Royal Mews, which is not a troop of cats but the stables for the royal family.
31. The small touches, like the fresh fruit and scented candles, add flourish to already memorable rooms.
32. If you're looking for some off-beat cuisine, the Bbar Restaurant, also at the Rubens, offers delicious South African cuisine.
33. Dine on the separate Mezzanine level of the Executive Lounge for a more exclusive experience.
34. If a longer stay is in the cards for you, the 41 even arranges for nearby 1 or 2-bedroom apartments.
35. If you'd like an escape from the city streets, miles of jogging trails are available in Green Park and St. James Park.
36. 41 supplies all of its guests with luxurious Fragonard toiletries.
37. Take out a Nintendo Wii on loan if you'd like to enjoy some quality in-room gaming.
38. Child daycare if you simply need to get away from the little one for a quiet evening.
39. A complimentary newspaper (that matches your room!) every morning.
40. And, of course, there's 24-hour room service for the midnight snackers among us.
41.  It could be free!  Simply 'like' us on Facebook and you'll be automatically entered to win three nights at the 41 Hotel in London!
---