The Caledonian and Edinburgh Castle
---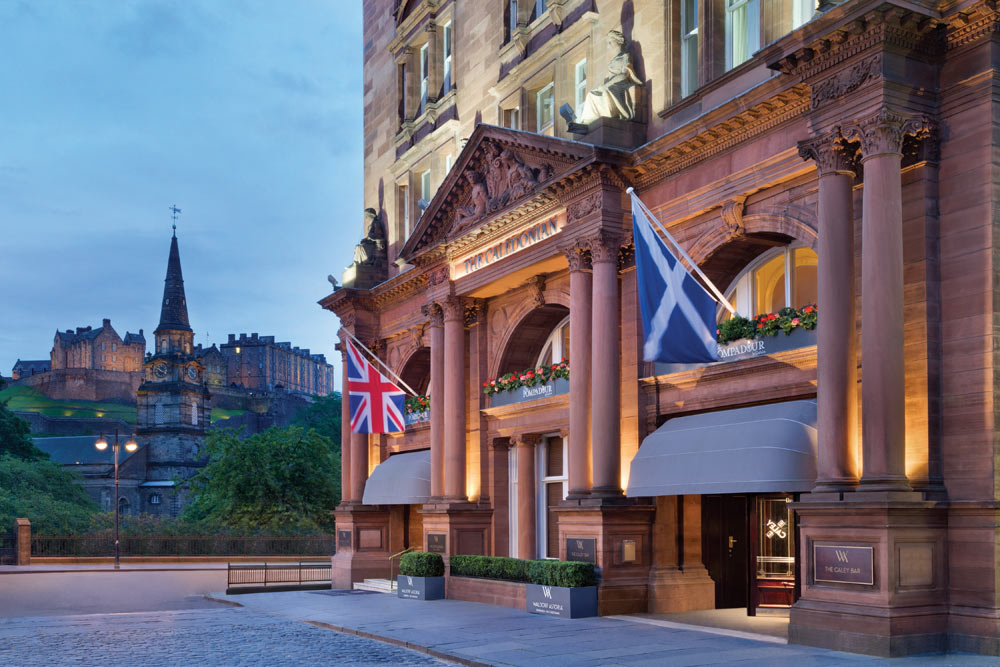 The Caledonian, A Waldorf Astoria Hotel, known locally as the "Caley", is one of Edinburgh's most significant landmarks. The historic hotel is located at the west end of Prince street, and it is perfect spot to explore nearby Edinburgh Castle.
Erected in the first century AD on an extinct volcano, Edinburgh Castle was Scotland's principal royal house in the Middle Ages. Built around the castle, Edinburgh's Old Town is a maze of medieval buildings, while splendid Georgian terraces grace the city's New Town. 
Some notable facts about Edinburgh Castle:
-The castle has sheltered many Scottish monarchs. They include Queen Margaret (later St Margaret), who died there in 1093, and Mary Queen of Scots, who gave birth to James VI in the Royal Palace in 1566.
-Scotland's oldest poetry tells of a war band feasting here for a year before riding to their deaths in battle.
-The castle is Scotland's leading tourist attraction, and a key element of the Edinburgh World Heritage Site.
-The Great Hall's hammerbeam roof ws where  Scotland's great and good were expected to honour their king.
It was completed in 1511 for James IV, but he had little time to enjoy it, as he was killed at the Battle of Flodden in 1513, fighting the forces of King Henry VIII of England.
-The Stone of Destiny, was shere Kings of Scotland were enthroned for centuries. But in 1296, the English King Edward I took the Stone from Scone near Perth and had it built into his throne. In 1996, the Stone was returned to Scotland. 
View rates, details, and more photos of The Caledonian >>
Share this article:
---