The JW Marriott in Las Vegas– Treat Yourself to a Weekend Getaway!
February 14, 2006By: Guest Writer
---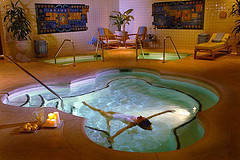 By Alex Rose
The first thing you'll notice about the JW Marriott Resort is the luxurious, oversized suites. The next thing you'll notice is the amazing view of Red Rock Canyon from your balcony, especially as afternoon crosses into evening. Even though the resort is located in Summerlin (which is about 40 minutes from the airport), it is exceptionally secluded, quiet, and very private... away from the energy of downtown. JWM offers an exceptional and enjoyable PGA 18-hole golf course. The recommended spa treatments for couples are the "Green Tea and Ginger Ultimate Body Facial" for the ladies, and "Herbal Spice Body Treatment" for the men, which are recommended before venturing downtown for the evening. For dining pleasure, the Wing Lei restaurant, located in the Wynn downtown, is recommended. Wing Lei's name has a pedigree too... Wing in English is Wynn and Wing Lei's English translation is "forever prosperous." The chef is Richard Chen, from the Culinary Institute of America in New York. Try the crisp prawns with black beans, asparagus, onions, and mushrooms for dinner and lychee sorbet as your finale.
---
Related Hotels