The Beverly Hills Hotel Gives New Meaning to "You Are What You Eat"
---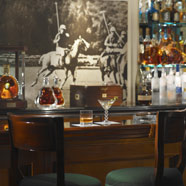 Wednesdays have taken on a whole new meaning at the ultra-luxurious
Beverly Hills Hotel
, which has a delicious new offer to help break up your week. Chef Robert Allen is giving new meaning to "you are what you eat" with the
Farmer's Market Experience
. Guests will work side-by-side with Chef Allen in shopping for fresh ingredients at the Santa Monica Farmer's Market, as well as conceptualizing and preparing a lunchtime feast for you and friends. The actual package will include a limo ride with Chef Allen from
The Beverly Hills Hotel
to the Santa Monica Farmer's Market, breakfast "to go" en route, ingredient shopping, and then a cooking session with Allen, as well as lunch paired with wines. The whole experience, subject to availability and only bookable on Wednesdays, runs at $250 per person, with a five person minimum. With the assistance of the renowned Chef Robert Allen,
The Beverly Hills Hotel
promises you nothing but a great time, making sure that you don't bite off more than you can chew!
---