Thanksgiving, Christmas, and New Years at The Homestead, Hot Springs, Virginia
---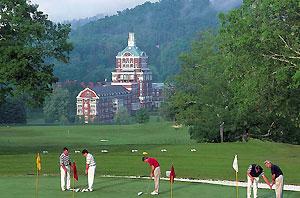 Since 1766, The Homestead has provided a luxurious escape for Princes, heads of state and sports fanatics. Located in Virginia's Allegheny mountains, the National Historic Landmark is now ranked among the world's top Spa and Golf resorts. Folks have been flocking here since the 1700s to "take the waters" at the historic hot springs and naturally-heated pools. And they continue to flock to this timeless retreat to enjoy the world-class facilities and beautiful setting. It's the ideal spot to start or preserve a family tradition (The Homestead makes it easy with endless activities for the whole family to enjoy). Here's the skinny on all the fun holiday happenings:
Big Band Weekend: November 10-12, 2006. Dining, dancing and absolute luxury packages starting at just $314
Thanksgiving and Christmas Celebration: Special dining, holiday events and plenty of holiday spirit. Packages starting at $295.
New Year's Eve Celebration: A year that starts this way is sure to be a great one. Dance, dine and celebrate the arrival of 2007! Packages start at $375.
---