Spago at Ritz-Carlton Bachelor Gulch: Hot Eats in the Rocky Mountains of Colorado
---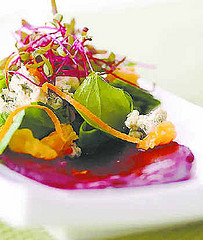 The start of ski season (Dec. 2007) brought the opening of superstar chef Wolfgang Puck's
Spago
restaurant in the Colorado mountains at the
Ritz-Carlton Bachelor Gulch
. From its Beverly Hills roots,
Spago
has become a nation-wide phenomenon with locations in Vegas, Maui, and Beaver Creek. As to be expected, the Ritz-Carlton's
Spago
created quite the buzz. Housed in a sleek renovated space (designed by Tony Chi), the restaurant still manages to embrace the "rustic luxury" and "pioneering spirit of the American West" for which the resort is famous. You'll find "seasonal American cuisine with Asian Influences and Rocky Mountain sensibilities." Starters include spicy tuna tartare in sesame-miso tuile cones, and hand-made autumn pumpkin and mascarpone agnolotti. Scrumptious main dishes include Chinois style Colorado lamb chops, grilled Japanese Kobe New York Steak, and the pan-roasted buffalo filet. The gorgeous
Ritz-Carlton Bachelor Gulch
is a year-round resort destination, offering the very best activities in Colorado's vast surrounding wilderness, so you can check out the restaurant in any season.
---