Quiet Luxury on the Las Vegas Strip at the Trump International
---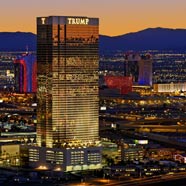 The best part about the Trump International Hotel and Tower in Las Vegas is that there isn't a casino downstairs. Eschewing Vegas tradition, the gold-mirrored windows of the Trump Tower opts to let their guests gamble elsewhere, and instead of focusing on which new slot machine to install, they created a haven of luxury.
When I stayed there last year, I still gambled (and plenty), but I did so at any of the nearby resorts that had bustling, smoke-filled casinos. When I returned to the Trump, I found something that is so often missing from Las Vegas strip hotels: peace and quiet. In fact, time after time, I'd exhaust myself elsewhere just to be refreshed at the Trump International. The stunning spa, decadent pool, or my well-appointed suite became a home away from home rather than just a place that was ushering me back downstairs to spend a few extra bucks.
Las Vegas will always have its mega-hotel and casino complexes, and I will always seek them out on my thrice annual pilgrimage to Sin City. But nowadays, I enjoy the peaceful luxury of the Trump International Hotel and Tower to sleep off those slot-induced hangovers.
---