Outdoor Bars, Hotels, Restaurants and More: Top New Reasons to Visit New York
---
By Meagan Drillinger, Jena Tesse Fox and Ruthanne Terrero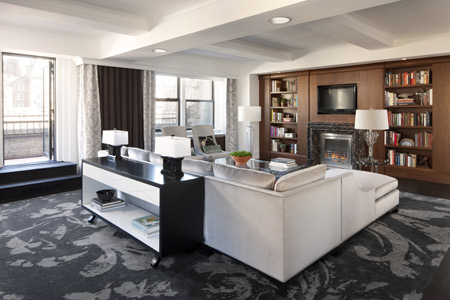 For starters, we say a stay at The Surrey will make you fall in love with all that is the best of Manhattan. Set on East 76th Street between Madison and Fifth avenues, it's close to Central Park, elegant shopping (think Lisa Perry, Alain Mikli, Carolina Herrera, Vera Wang, Jack Vartanian, Missoni and Lily Pulitzer) and classic, refined residential brownstones and townhouses.
The hotel is ideal for those seeking a secure, intimate setting; step into the lobby and you're greeted by staff at the reception desk; someone is always on hand to guide you to the elevator and to see you to your room, should you wish. And what choices you'll have. Starting at the top with The Surrey's most lavish accommodation is the Presidential Suite (No. 1406). It has 4,500 square feet of space and can be configured to have one or two bedrooms. Other important elements include a private terrace, formal dining room for 10, a living room with a fireplace and an iMac, a baby grand piano and a full kitchen.
The Penthouse (No. 1701) on the top floor, we must say, is a fine runner-up to the Presidential Suite. At 1,150 square feet, it has a full kitchen, a living room with a marble fireplace, dining area with seating for six and a posh, private 1,000-square-foot wraparound terrace that provides fabulous views of Central Park and the Upper East Side. Note: A huge plus of staying in the Penthouse Suite is its exclusive access to The Surrey's new private rooftop garden.
Good to know: Ultra Deluxe Suites (No. 1403 and the "01" line of suites, for example, No. 1401) have small kitchens and terraces with Central Park views. Note: Those in the know will appreciate that The Surrey has Duxiana brand beds in all of its rooms. Additionally, as only smaller buildings surround the hotel, all rooms have bright light all day. P.S.: The hotel is pet friendly; there's also a wonderful rooftop garden for guests only.
This winter, Andaz, a new luxury brand by Hyatt Hotels & Resorts, opened a hotel on New York City's Wall Street. This month, the Andaz Wall Street got a new sibling in Manhattan: The Andaz 5th Avenue.
We hear the hotel takes its design from its midtown location. Think sleek lines with classic luxury, reminiscent of New York City apartments at the height of their glamour.
The 184-room hotel boasts 36 suites. Ask about the six that offer terraces overlooking the New York Public Library. Each room has a black footbath in the shower area.
Top digs: The Andaz XL Two-Bedroom Terrace Suite measures a whopping 1,779 square feet, offering sweeping views of the Hudson and East River.
The ground floor restaurant seats an intimate 38 and offers selections from New York City staples. Think Katz's Delicatessen, Sullivan Street Bakery and the Pickle Guys.
Head down to the cellar and visit the bar, serving a selection of wines, liquors and small plates.
Speaking of Bars…..
Here in New York it's open season on drinking outdoors, so we thought we'd round up some news of outdoor bars where one can imbibe in style. Here goes….
When Rockefeller Center's Ice Rink closes up shop for the winter, the Rink Bar opens for business in its place. This summer it features a newly expanded cocktail menu. Think mojitos, specialty lemonades, martinis and frozen drinks.
In the mood for a snack? We hear that in addition to popular bar snacks, Rink Bar serves up some tasty barbeque. We're talking slow-roasted pork shoulder, mango and jalapeno glazed chicken, St. Louis ribs - with all the trimmings from corn on the cob to slaw.
Rink Bar is open seven days a week. It is located off Fifth Avenue between 49th and 50th streets. For more information visit www.patinagroup.com.
While in midwtown, the Roosevelt Hotel's mad46 rooftop lounge is open. This year it's better than ever, with expanded indoor space, retractable glass windows and an interior bar. (And the air conditioning will be appreciated when the mercury hits 90. Not many of us like spending hours in a sauna, either!) We hear that the indoor spaces are bookable for private parties if you want to celebrate a big birthday.
Convenient touch: Those wishing to bypass the hotel's lobby can use the exclusive elevator on 46th Street that will take them directly to the lounge and enjoy the fresh air...such as we have it!
For more information, call 212-885-6095 or visit www.mad46.com.
Feel like have a drink indoors? Just go downstairs; the Roosevelt has also just opened its new Vander Bar. Open Monday through Friday from noon until 9 p.m., the bar has a wide variety of beers on tap, as well as a menu of light bites (the Mini Lobster Rolls sound divine). For some funky cocktails, try The Blackberry (a vodka-infused drink named in honor of one of Midtown's favorite toys…look, just be happy they didn't call it the Crackberry!), the Madison Avenue Mai Tai, the Bull Moose (pictured right, a mix of coffee and Patrón—yum!) or The Lombardo, a salute to the Big Band great Guy Lombardo who began his New Year's Eve tradition of broadcasting "Auld Lang Syne" from the hotel.
(It's amazing, the trivia you can learn in bars. Why else do you think it's the Guinness Book of Records?)
Nice touch: Vander Bar has its own dedicated 45th Street entrance.
Downtown, the SoHo House rooftop has fantastic views over the West Village and the Hudson River. Members and guests, as well as those staying in the hotel, can lie on loungers or sit at tables for drinks and breakfast, lunch and dinner daily during the summer months.
Where else can you brunch poolside, next to an all-glass balcony and take in panoramic views of New York City? Or go for a dip in the pool, bathing in the sun while sipping a Strawberry Lemonade Cocktail? (That's made with fresh lemons, muddled strawberries and vodka and has been a rooftop favorite since its opening  – even Carrie, Samantha, Miranda and Charlotte from Sex and the City enjoyed it in a summer episode.)
Theater Watch
All New York-bound theater fans, mark your calendars for October! Acting legends James Earl Jones and Vanessa Redgrave will be returning to Broadway this fall in Alfred Uhry's classic play Driving Miss Daisy, which was made into an Oscar-winning movie with Morgan Freeman and Jessica Tandy.
The play, a sensitive study of race relations as seen through the eyes of an elderly Jewish woman and her African American chauffeur, premiered off-Broadway in 1987, and was made into a hit movie two years later. Jones was last on Broadway in the recent revival of Cat on a Hot Tin Roof, while Redgrave earned a Tony nomination for her performance in Joan Didion's one-woman play The Year of Magical Thinking.
Driving Miss Daisy will begin performances on October 7, at the John Golden Theatre (252 West 45th Street), with an official opening on Monday, October 25.
Driving Miss Daisy will play the following performance schedule: Monday, Wednesday - Saturday at 8:00 p.m., Tuesday at 7:00 p.m., with matinees on Wednesday and Saturday at 2:00 p.m.  (From October 7 – 25, Tuesday performances begin at 8:00 p.m.)  Tickets ($65 - $125) will be available via Telecharge.com and beginning September 9, will also be available at the box office of the Golden Theatre.
On the Radar:
Exciting news for foodies in New York: The New York Times is reporting that Thomas Keller  will be opening a second Bouchon Bakery (www.bouchonbakery.com/)  next March. It will replace the Dean & DeLuca at 1 Rockefeller Plaza (48th Street).
Unlike the Bouchon Bakery in Time Warner Center, this eatery will not be a complete restaurant. Keller told the Times that in good weather, there will be about 45 tables outdoors, but there will be no waiter service. Sébastien Rouxel, the pastry chef for Bouchon uptown, will also be involved in this project. Fresh touch: All of the baking will also be done in-house. Tiffany Jones will be the chef de cuisine for both Bouchons, in charge of savory items.
---