Mobil Travel Guide Five Star Hotel Spas
---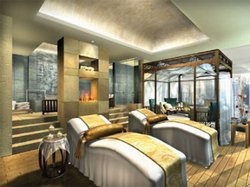 There's been quite a hullabaloo over Mobil's recently announced 2006 award winners. The Spa at the Mandarin Oriental New York made the cut and graduated to elite five star status, its "wow factor" described by the experts:
This sleek hotel marries Asian sensibilities with New York panache, and its 14,500-square-foot spa is the piece-de-la-resistance. Bamboo and natural stone are used throughout, creating a temple of serenity in this most frenetic of world capitals. Chinese, Ayurvedic, Balinese, and Thai healing therapies are the highlight of a visit to this facility, where guests are encouraged to book blocks of time, known as Time Rituals, for a comprehensive relaxation experience.
It joins the likes of the Spa Montage at the Montage Resort and Spa in Laguna Beach, Cali-- the nation's only other Mobil Five-Star Spa. The full list of 2006 award-winners is here. Any dynamite spas that you noticed didn't make the cut?
---