Luxury Pet Resorts: Swarovski-Crystal Collars, Facials and Flat-Screens at Spa Paws Hotel
---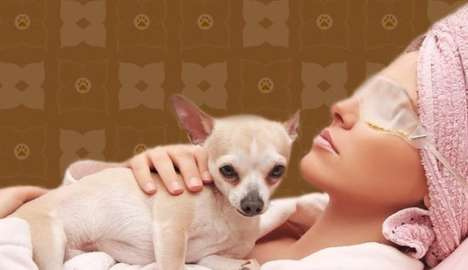 Have you heard about the $4.4 million pet resort in Fort Worth, Texas? No joke.
Spa Paws Hotel
is set to open later this month,
according to The Wall Street Journal
, equipped with "custom upholstered beds, chenille and satin blankets, 18-inch flat-screen TVs— and a dog treat on the pillow." That's not all. Dogs and cats will be positively pampered with facials and turn-down service. There will even be Swarovski-crystal collars for sale in the boutique. Owner Janice Ford Grimes, whose four cats are rumored to drink Evian, aims to create a resort that even humans would enjoy. Price tag? $200 a night. More deets below:
The event hall at the Spa Paws Hotel.. will play host to pet weddings and birthday parties, and guests can sit for a portrait by a professional photographer. The 20,000-square-foot complex will be anchored by a wellness center, where pets can heal their bodies and minds via Eastern medicine. The best suites will overlook an atrium, where robotic squirrels will be the floor show.
---