In Case of Nuclear War, Check-In at West Virginia's Greenbrier
---
Just in case the House and Senate have to flee Washington, it's good to know they won't have to bunk at a local no-tell motel. No, nothing short of the luxurious retreat to the stars
The Greenbrier
in WVA will do for the elder statesmen and women of this country.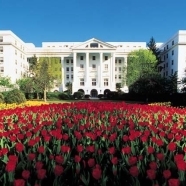 See, in 1958, at the height of the cold war, the U.S. government secretly began building what they dubbed U.S. Government Relocation Facility at the
recently renovated resort
. Finished in 1961, the 112,544-square-foot bunker was built 720 feet into the hillside under
The Greenbrier's
West Virginia Wing.
The bunker was a secret for thirty years, but trust The Washington Post, those Watergate exposers, to spill the beans, which they did in 1992. The government gave up its lease on the space in 1995, and since then, The Greenbrier has led tours of the super-secret area. You can see the 25-ton blast door, decontamination chambers, clinic with 12 hospital beds, cafeteria, power plant, and 18 dormitories designed to accommodate over 1,100 people. The Greenbrier worked with Dr. Jim Kelly and the Virginia Historical Society on an exhibition gallery. This area features artifacts and reproductions, as well as numerous photos of the facility, a video on the history of the Cold War and other materials relevant to the bunker. You can even host a James Bond or spy-themed party at the bunker.
---