Go Green for the Inauguration: Eco-Inaugural Presidential Package at Fairmont Washington DC
---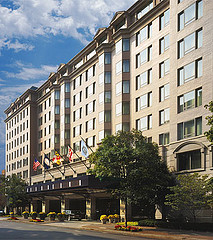 Accommodations in Washington D.C. are filling up fast for the Presidential Inauguration in January, and
fun hotel packages
abound. Case in point: The
Fairmont's
Eco-Inaugural Package, an over-the-top experience for an eco-conscious high-roller looking to get pampered while going green.
The price tag? $40,000.
What's included? A four-night stay in the
Lexus Hybrid Living Suite
, designed by Los Angeles-based ecodesigner Kelly LaPlante with two bedrooms, a kitchen, three bathrooms, and a dining room.
The Washingtonian reports on what $40,000 buys you:
Guests who book the Eco-Inaugural Package will also have use of a Lexus LS 600 hybrid during their stay, and they'll receive organic spa treatments including massages, manicures, and makeup. Though tickets to inaugural balls are not included, female guests will receive a custom-tailored ball gown from organic designer Linda Loudermilk. Guests will also be treated to a midnight dinner for ten—organic, of course—in their suite after the balls. A pair of butlers will be on hand throughout their stay to attend to the guests' every need. And for a bit of good karma, the hotel is making a $2,000 donation in the name of its VIP guests to the National Geographic Society.
---