For Sale: Ritz-Carlton Back Bay Boston
---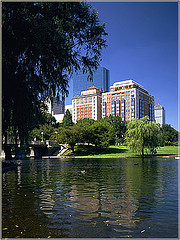 Rumor has it that the Grande Dame of Boston hotels, the oldest Ritz-Carlton in the United States, is on the market. Located on fashionable Newbury Street and the Public Garden, the 273-room luxury hotel celebrated its 75th anniversary with a major renovation in 2002. As reported by the Boston Herald:
India-based newspapers and at least one TV station reported yesterday that Indian Hotels Co. Ltd., owner of Taj Hotels Resorts and Palaces, will buy the Ritz for $170 million. But New York-based Millennium Partners, which has owned the Boston hotel for seven years, said it has not reached a deal to sell it.
Apparently, since the last summer purchase of The Pierre in Manhattan, Taj Hotels has been on the prowl for similar properties in gateway US cities "to build a five-star hotel brand under The Pierre flag."
---