Football and Luxury in Indiana: Where to Stay to Watch the Indianapolis Colts
---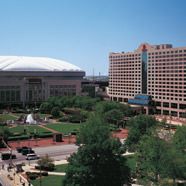 Looking for a
luxury hotel in Indianapolis, Indiana
? I'm sure you are, especially considering the currently undefeated (14-0!!!) Indianapolis Colts are headed to the NFL playoffs with home field advantage. Lucky for you, and your traveling horde, there are some hotel options that exemplify the best of this Midwest city.
One of my favorites is the Canterbury Hotel. This charming hotel which boasts only 75 rooms, brings European charm to the heart of Indianapolis. With dining and nightlife galore nearby, you won't be left with time on your hands at the Canterbury.
But if you're looking for a place just steps from the RCA Dome, the Westin Indianapolis answers the call in as literal a fashion as can be. The Westin is connected to the home of the Indianapolis Colts, the RCA Dome, by a covered sky-bridge!
The Colts playoff games start the weekend of January 16-17, so book now before it's too late!
---