Fly Like an Eagle at British Columbia's Aerie Resort and Spa
---
The Aerie Resort and Spa's
offering you a chance to fly like an eagle. When you visit this mountainous island resort, you can now skip the ferries and helicopter straight in to Victoria.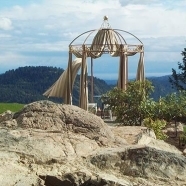 From there you have the choice of either a Towncar from Regent Limousine to transport you to the Aerie and back or a vehicle of your choice from Budget Rent-A-Car if you prefer to explore the island yourself. Rates start at $415 per person. While at the luxury resort, indulge in some spa treatments, take in some whale-watching, or go on a mushroom collecting tour. Or indulge your palate in Executive Chef Castro Boateng's French cuisine with a Pacific Northwest influence that takes full advantage of the abundance of locally-grown products, from seafood to game to fresh morels and berries. And here's a
Five Star Alliance
tip for you...ask for Rooms 5 and 6, as they have private balconies and spectacular south-facing views.
---