Feast on Local, Organic Foods with Sofitel Hotels to Celebrate Earth Day
---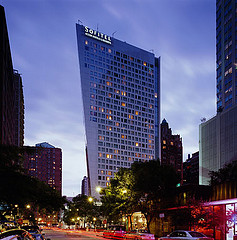 For 2009 Earth Week,
Sofitel's
luxury hotels in North America are offering guests the chance to experience the culinary "pursuit of pleasure"-- so instead of just talking about our planet, you can "take a bite out of it!" Committed to buying foods locally from producers who are dedicated to environmentally sustainable agriculture, Sofitel crafts delicious cuisine in the French tradition. And for Earth Week-- April 19th to April 25th-- guests can partake in some fabulous culinary events at hotels in New York, Philly, D.C., Miami, Chicago (pictured), Minneapolis, Montreal, San Francisco, and L.A. Here's the skinny on the feasts:
* Sunday, April 19 – Guests can enjoy a local farmers brunch menu from 11:00 a.m. – 2:00 p.m.

* Wednesday, April 22 – Patrons can celebrate Earth Day by discovering a delicious 30 minute lunch made entirely from ingredients grown organically. Later the same day, guests can indulge in a 3-course dinner focused around fresh herbs and organic wine flights paired with local cheeses.

* Friday April 24 and Saturday April, 25 diners can experience Sofitel's "Art de Recevoir" by turning off the lights and joining in for a candlelit dinner in the restaurant and/or wine tasting in the bar to help raise awareness of the importance of energy conservation.
The best part of all? Sofitel is donating a percentage of the proceeds to Trees for the Future, a nonprofit dedicated to helping worldwide communities plant more trees.
---