Family Fun with Starwood Hotels and Resorts
---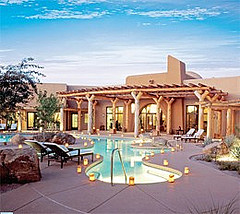 So you're looking for some family bonding time, a weekend getaway, family vacation, something unique and memorable... Starwood Hotels to the rescue.
The company has just announced
"Love Your Family"
-- a new, family-friendly program designed for both kids and adults alike. After lots of customer research, Starwood's come up with a program they feel caters to the whole family. The three signature experiences-- Fireside Storytelling (s'mores included), Stargazing, and Dive-In Movies (watch a family film from the pool)-- can now be found in 29 resort locations in the U.S. and the Caribbean under the Sheraton, Westin, St. Regis and The Luxury Collection labels. Other
"Love your Family"
services? Connecting rooms, food and bev discounts, counselor-led kids nights, all coordinated by the resort's "Director of Fun."
---