Emirates Airlines Announces Innovative Luxury Services for NY-Dubai Nonstops
---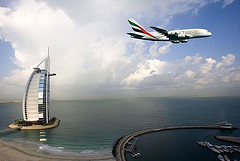 The award-winning international carrier,
Emirates Airlines
, has just announced some ground-breaking improvements for its popular nonstop flights between NY and Dubai. For the evening flight from JFK, the new Boeing 777-300ER aircraft will feature enhanced versions of the talked-about First Class suites, life-flat massage seats in Business Class, and extra legroom in Economy Class. And the industry's largest personal TV screens. Emirates is spending $50 million just to install the enhanced First Class suites on the new aircraft. These First Class suites are more akin to what you'd find on a corporate jet than a commercial aircraft; they include a
fully-flat bed with in-seat massage,
dine-on-demand room service, in-suite personal mini bar, a big personal wardrobe within the suite, and sliding doors for the ultimate in privacy. Plus, there's a new communal First Class bar area. So next time you jet to Dubai, you just may not want to get off the plane.
---