Eco-Design and Eco-Couture at Fashion Week in Portland Oregon
---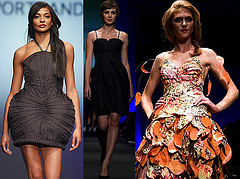 Fashion week is on in Portland
, and it's gone green for the second year in a row. Featuring eco-couture, urban casual, street- and active-wear from all over North America and the globe, Portland Fashion Week is "the world's only comprehensively eco-sustainable production of a fashion week."
Oregon Live reports
that "even the venue -- the 14 Square building -- incorporates sustainable materials."  The runway? Made of recyclable materials, of course. Running until October 11, the week features many independent designers whose work was produced with minimal environmenal impact. Along with these hot fashions, the models will be wearing ecological cosmetics.
Looking for a place to shack up in Portland? Five Star Alliance recommends the Hotel Monaco (filled with original art from Pacific Northwest artists), the Heathman Hotel, The Nines from the Starwood Luxury Collection and The Allison in Oregon's wine country.
---