Easter Savings at The Homestead, Hot Springs, Virginia
---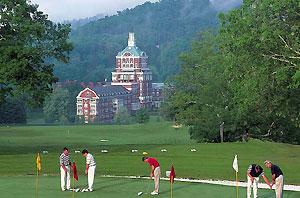 It's not too late to plan a fun-filled Easter weekend the whole family will enjoy.
The Homestead
is offering bargain rates and a slew of themed activities-- Easter brunch, egg dyeing for the kids, traditional Easter Egg Hunt with more than 4,000 eggs filled with toys and candy, and of course, a visit with the Easter Bunny-- for the coming weekend. Rates begin at just $249 for the weekend of April 6-8, 2007. Nestled in Virginia's beautiful Allegheny mountains,
The Homestead
is a National Historic Landmark which is ranked among the world's top Spa and Golf resorts. Since 1766, the historic hot springs have enticed guests to the naturally-heated pools at The Homestead, where one can also indulge in world-class facilities and an endless array of recreational activities.
---