Dr. Andrew Weil Presents Healthy Aging at Miraval, Life in Balance, Resort
---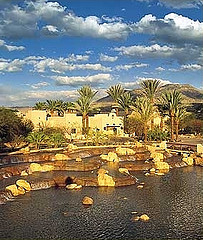 As featured in the Robb Report (our friends at the Helium Report have published an awesome summary of the September issue, check it out!)— the world-renowned Miraval, Life in Balance Resort continues to pave the way for lifestyle resorts with the innovative and ground-breaking work of its Director of Integrative Health and Healing, Dr. Andrew Weil. America's leading expert on mind-body living, Dr. Weil has devoted the past thirty years to developing, practicing, and teaching others about the principles of integrative medicine. His books include the national bestsellers Healthy Aging: A Lifelong Guide to Your Physical and Spiritual Well-Being, Spontaneous Healing, 8 Weeks to Optimum Health, Eating Well for Optimum Health and The Healthy Kitchen.
As part of the Miraval resort's Luminaries Series— where guests are invited to meet and speak with thinkers who have shaped the ideas of our time— Andrew Weil will lead a special workshop on Healthy Aging at Miraval from October 29-November 1, 2006. Rates per person are $3092.06 single occupancy all-inclusive and $2738.32 double occupancy all-inclusive. Includes three nights luxurious accommodation, all retreat programming, three gourmet meals daily, evening appetizers, snacks and all non-alcoholic beverages, unlimited access to all scheduled programs and activities, one spa service, one-on-one consultation or one round of golf up to a $110 value per person, per night of stay, and round trip transportation from Tucson International Airport.
Consistently ranked the number one destination spa in the world, Miraval, Life in Balance is nestled in the foothills of the Santa Catalina Mountains in Southern Arizona, its 104 exquisite hacienda-style guestrooms situated on 400 manicured acres in the picturesque Sonoran Desert. The resort offers luxury, privacy and a healthful focus for the body, mind and spirit. There is no strict regimen: guests are free to create daily agendas that suit their own goals.
---