Dining in Scottsdale: Cafe Zuzu at Hotel Valley Ho
---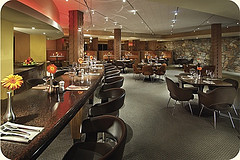 The Monday Night Chef's Table continue to dazzle diners at the ultra-cool Café Zuzu, located at Scottsdale's hip urban resort,
Hotel Valley Ho
. Since the hotel's opening in late 2005, Café Zuzu has been racking up the awards. Critics swoon over the stylish American comfort food, hand-crafted cocktails, and fun retro setting. The next Monday Night Chef's Table:
The Great White-- Rediscovering Chardonnay
on Monday, March 5. A note of explanation from the witty chef:
A few months ago, a Monday night theme was ABC (Anything But Chardonnay), a sentiment shared by some wine lovers in the '90s when overly oaky, flabby and overpriced renditions of the grape were emerging from California. It's not that we have anything against chardonnay; we simply wanted to expose our guests to some alternatives. The truth is though, when chardonnay is poorly done it's extremely difficult to pair with food. We do enjoy a well made chard however, so we thought it was high time to rediscover this extremely popular varietal and design a menu around it ("The Great White") just in time for summer.
The menu looks divine: Smoked Salmon (hearts of palm and garlic cream), Braised Pork Belly (roasted cipollini and foraged mushrooms), Pheasant Breast (truffle gnocchi, English peas and tomato confit), and Peach Tarte Tatin (honey mascarpone cream and blackberry nectar). From 6:30-8pm, priced at $42 per person.
---