Chocolate, Wine and Romance Weekends at Waldorf Astoria Orlando
February 4, 2011By: Mary Winston Nicklin
---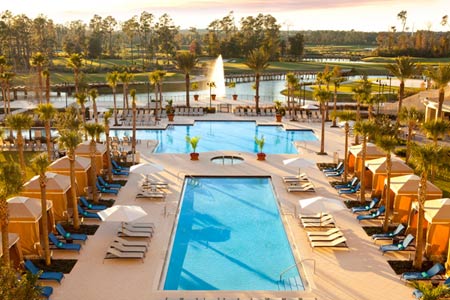 Struck down with a bad case of winter blues? Nothing a little chocolate and wine can't cure, says the
Waldorf Astoria Orlando.
(We'd add Florida sunshine as a key ingredient in this winning recipe.) Jet down to Orlando for a restful weekend in the Sunshine State with plenty of chocolate and bubbly to heal your winter-weary soul. The luxury hotel is launching "Waldorf Astoria Chocolate, Wine & Romance Weekends" exclusively for overnight guests on Feb. 12-13 and 19-20, 2011. During these weekends-- when chocolate and wine take center stage--
suites are available starting at $289 on Feb. 12-13 and $309 on Feb. 19-20
. Here are some of the sweet surprises in store for lucky guests:
Art and Chocolate: A Walking Tour – learn more about the hotel's collection of commissioned artwork, and sample chocolates that are paired to add inspiration to each painting.
Bar du Chocolat: A Chocolate Extravaganza – experience nearly 30 a la carte chocolate treats from Waldorf Astoria's display of decadence. Peacock Alley is transformed into a chocolate boudoir, offering an evening of self-indulgence. Guests can choose from a selection of chocolate treats from the hotel's talented pastry team, including handmade chocolate truffles, exotic chocolate cakes, pillows of chocolate mousse, and bowls of bon-bons.
Smooth Jazz: Featuring Joseph Billups Duo – enjoy nightly entertainment in Peacock Alley, where the Smooth Jazz Trio will add spice to the night.
The Marriage of Chocolate and Wine: A Seminar – Learn what wines pair the best with chocolate.
For the Love of Wine: A Tasting Experience – A casual wine tasting experience that features the best new wines available this year – the hotel's 10 favorite new wines! Note: not chocolate related.
Chocolate perks at Spa by Guerlain – Pair your spa treatments with chocolate treats (and complimentary champagne!), all weekend at Waldorf Astoria Spa by Guerlain
---
Related Hotels