Andre Agassi and Stefanie Graf to Develop Fairmont Tamarack, Luxury Hotel and Residences
---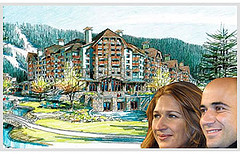 The dream team has been scheming to open a stunning all-season resort in the mountains of Idaho, and now the Fairmont Tamarack development is official. Agassi Graf Development LLC has partnered with Fairmont Hotels and Resorts, who will manage the luxury hotel and residences in two locations: Tamarack's village and a mid-mountain site. The terrain is breathtaking (check out the sleek virtual brochure) and the resort promises extraordinary skiing, excellent fly fishing, a challenging Robert Trent Jones, Jr. golf course (with new Jack Nicklaus Academy of Golf), white water rafting and watersports on the nearby rivers and Lake Cascade. To quote the daring duo:
Time together with family is one of the most treasured things in our lives. We value the days we spend together and the quality of the moments we share. We have discovered a location in the heart of central Idaho that creates the perfect backdrop for exceptional experiences and precious memories. Tamarack Resort, with its all-season landscape, provides families like ours an active outdoor lifestyle and a chance to appreciate its surrounding beauty. Fairmont Tamarack is our opportunity to share this extraordinary experience with you.
This "outdoor enthusiast's dream" is scheduled to open in 2008.
---