A Boutique Critique: 45 Park Lane
---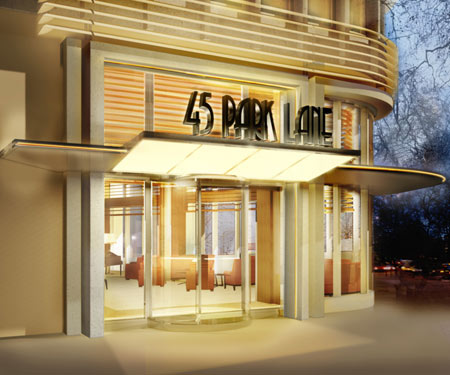 I have a special place in my heart for tiny boutique hotels. It may be a little smaller than some of the other chambers, and there aren't enough spots for everybody, but that just makes the few who do make their way into my good graces all the more special. I can give each and every one the loving care and attention they deserve. And thus began my new segment on boutique hotels that I just adore.
I like hotels with numbers in their names.  Though the 41 may be my all-time favorite hotel name if simply for the fact that it left the alpha- out of alphanumeric, my definite second-favorite London hotel in the field of using numbers that begin with 4 is the 45 Park Lane.  Interestingly enough, I've found that there's more in a number than meets the eye.  Many hotels with numbers in their names are not without their similarities.  As is the case with the 45, numbered hotels are often looking to stand out from the crowd with a stark, modern decor and may go a bit off the beaten path.  But there's a lot more to love about this boutique hotel than just its love of numbers and modernism.
The hotel's 45 rooms and suites (see what they did there?) all offer views of Hyde Park, and their penthouse suite has a wraparound terrace that puts less-ideally-located penthouses to shame.  CUT at 45 Park Lane is Wolfgang Puck's first European restaurant, and the refined take on on American steak is a pure joy.  The hotel is just steps from the famed Dorchester Spa, and you can get outdoors in Hyde Park.  I love what New York architect and designer Thierry Despont has done with the place, and 45 Park Lane is definitely one to check out for your next trip to London.
---