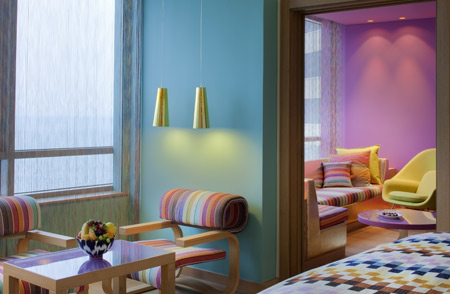 Conde Nast Traveler, purveyor of fine hotel reviews and travel advice, has just released its 2012 edition of the Hot List, a list of hotels that are setting the hotel world aflame with fresh designs and new concepts, or maybe just a solid new look at classic luxury. 41 reporters embedded themselves anonymously in hotels across the globe to review their targets. What results is a list of 121 hotels around the world that are so on fire they should be put on your watch list, just in case they end up burning down.
My experience with a hotel like the Hotel Missoni in Kuwait could only be characterized as Christopher and the Amazing Technicolor Dream Room. Upon entering, one might be tempted to channel the spirit of a certain 90s popsicle commercial: "the colors, Duke, the colors!" I wonder how many rainbows were harmed in the making of that upholstery. In any case, the Hotel Missoni has definitely embraced the boutique spirit. They've taken an offbeat design concept and embraced it wholeheartedly, carving a niche market out of a space that didn't used to exist. A room that appears as if it was diffracted through a raindrop might not be your style, but if it is, you certainly won't find it anywhere else in the world in quite the same way as the Missoni Kuwait.
Of course, the hotel has its more traditional luxury aspects as well. The hotel features 169 uniquely designed rooms on the Kuwaiti coast with both the water and vast sandscapes nearby. Elegant Italian dining and a chocolate and coffee cafe anchor the hotel's restaurant experience, and its Six Senses Spa and outdoor pool are perfect for relaxing. If you're looking for a completely different aesthetic meshed with the five-star luxury you know and love, the Hotel Missoni Kuwait might be just what you're looking for.