Beehives at InterContinental Boston Produce Honey for Cocktails and the Spa
---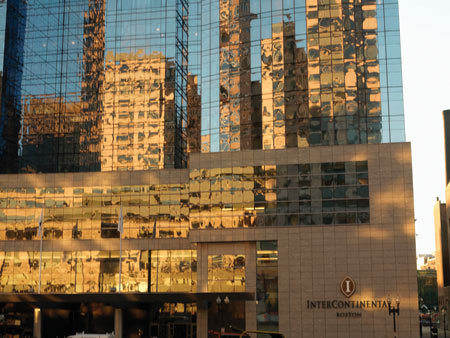 How cool is this? The InterContinental Boston-- the only hotel in Beantown to have its own apiary-- harvests honey from beehives located on its roof deck. Expected to grow to 120,000+ bees in late summer/early fall 2011, the colony pollinates the flowers in gardens surrounding the hotel (like the Rose Kennedy Greenway). The hotel even has its own Urban Bee Keeper! This July and September The InterContinental will be harvesting the honey to be used in body treatments at the spa and tasty new cocktails: L'Orange Miel, a drink made with Pierre Ferrand 1er Cru Cognac, Grand Marnier, fresh clementines and honey syrup, served at the Miel "Brasserie Provençale"; the Honey Ginger Caipirinha at RumBa, the hotel's popular rum and champagne bar; and Lights Out Over Boston, a cocktail made with Milagro Silver Blanco Tequila, fresh lemons and honey syrup, served at Sushi-Teq, which specializes in sushi and more than 100 tequilas.
On Tuesday, September 20, 2011, the Miel Brasserie ("miel" means "honey" in French) will be offering a three-course "Honey Harvest Dinner" ($75 per person with wine pairings) featuring honey-infused menu items.
Next stay you stay at The InterContinental Boston, be sure to check out the "Bee TV" in the brasserie, which streams live images of the bees buzzing around their hives.
---