The Best Desert Resorts of Dubai
Dubai is the business, shopping and entertainment mecca of the Middle East. Its cultural heritage and historical personality are best reflected in the awesome secluded desert resorts. These oases bring to visitors memories of the Silk Road and Lawrence of Arabia, all in a luxurious and soothing setting.
Below is a list put together by Five Star Alliance to help the upscale traveler find the perfect desert resort in Dubai.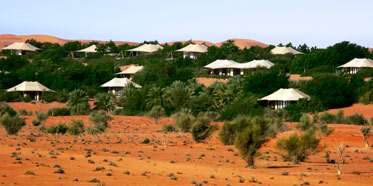 Resembling a Bedouin encampment this secluded, internationally-awarded hideaway resort offers personal and seductive experiences in absolute comfort. No children under 10 are allowed. The Suites at Al Maha blend gently into the desert and offer unsurpassed luxury. Timeless Spa offers holistic treatments drawn from the wisdom of Middle Eastern & South East Asian traditions. Romantic dune and deck dining in the desert is available.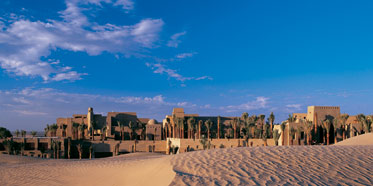 The plethora of dining choices at Bab Al Shams reflect world class standards in both cuisine and service. From traditional Arabic fare to slowly cooked Indian dishes, Bab Al Shams Desert Resort & Spa offers a range of exquisite dining experiences. The resort is home to the the region's first authentic open-air Arabic desert restaurant. In addition, there are 7 other restaurants and bars on-site. The food, service and ambiance here are a treat for taste buds.