Hotels with an Incredible View! Athens, Greece
---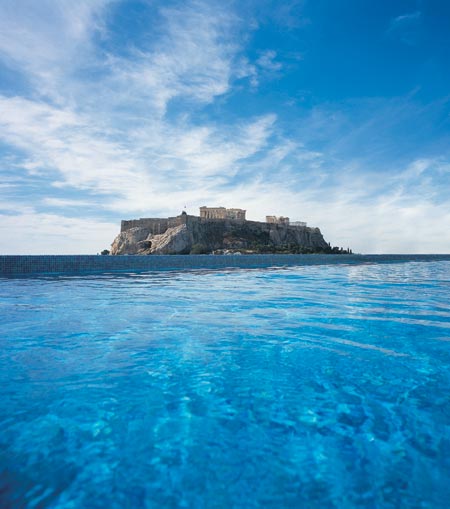 We understand that an incredible view is of utmost importance to luxury travelers. After a day of exploring a new city, there's nothing more enjoyable then returning to your luxurious accommodations and taking in the miraculous view before calling it a day. For others, there simply is no time to enjoy everything a city has to offer, and the only exploration one has time for is to take in the view from the hotel. We'd like to introduce you to our new blog series, which will be featuring incredible hotels with incredible views! Whatever your travel reasons or however much time you have to enjoy your trip, we hope you leave thinking wow what a view!
Our feature hotel is King George Palace in Athens, Greece. It has been distinguished as the best hotel in Greece and it has been called home by Kings, Presidents, and travelers since the 1930s. This unique boutique hotel has 102 rooms and 22 suites, each gracefully designed with classical and modern concepts in mind. King George Palace is located on Constitution Square, within steps from of the Greek Parliament and near the historical city center. The most stunning feature of this hotel is certainly the views it offers. Some of the rooms offer breathtaking views of the Acropolis, and the rooftop restaurant, the Tudor features remarkable views of the Acropolis and the city of Athens. Check out this phenomenal hotel and get to have your breath taken away!
Be sure to keep up with our blog series to discover various luxury hotels all over the world with the best views!
---