Why Travel to New Zealand?
November 6, 2005By: Mary Winston Nicklin
---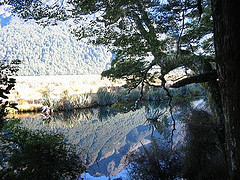 No offense to my kiwi friends. But there's got to be a good reason to fly halfway around the world to some isolated islands in the colder, less redeeming part of the Pacific. (This is, after all, the jumping-off point for all those crazy scientists doing work in Antarctica). The landscape? Snow-capped mountains, sheep-dotted valleys, blue lagoons, and rivers frothing with white water. Hmmmm, sounds a lot like someplace I know in this hemisphere. The cultural history? Again, sadly similar to the United States (outcast Brits, no longer welcome in England, settling a new land and doing their damnest to marginalize the native peoples. Though the Maoris are thankfully outspoken about the history of repression and have flamboyantly preserved their cultural traditions.) Does this explain why travelers to New Zealand are compelled to do crazy, dare-devil, adrenaline-pumping activities when they get to Queenstown? Like bungee jumping, sky-diving, or jetboating? If they didn't challenge themselves, they'd be bored to tears. To top it all off-- the icing on the cake confirming my opinions—is a recent article condemning NZ's luxury lodges. So, dear reader, I challenge you: What are your reasons for heading to the land of the Hobbits?
---