What's Hot: Wolfgang Puck's The Source at the Newseum, Washington D.C.
---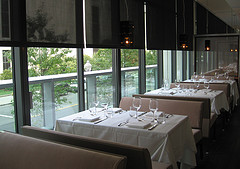 There's been a lot of talk about Washington D.C.'s new
Newseum
, and some media folks suggest that the "decided Page Six-type buzz" has more to do with the museum's on-site restaurant,
The Source
, the first fine-dining D.C. establishment from original
celebrity chef Wolfgang Puck
. Tinseltown adores Puck (A-listers flock to his L.A. steakhouse,
The Cut
, and he's been the official chef of the Academy Awards for 14 years). Plus, he is the only cook never to have lost on Iron Chef (even beating out Masaharu Morimoto on a Battle of the Masters show). It looks like Pennsylvania Avenue is the latest "it" spot in the nation's capital, where diners can sample modern Asian dishes and gaze out the floor-to-ceiling windows from the three-level restaurant.
---