What's Hot: Hapuku Lodge, New Zealand's Latest Eco-Resort
---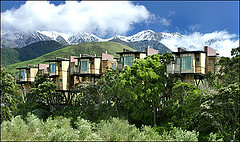 Snow-capped peaks loom over olive groves and the crashing surf at the seaside eco-marine town of Kaikoura. Sandwiched between the sea and the mountains, halfway between Christchurch and Picton on the rugged east coast of New Zealand's South Island... Welcome to one of the most spectacular settings on earth. In this majestic spot, a family of designers and architects has created an eco-friendly luxury lodge unlike any place on earth.
Hapuku Lodge
is a treetrop retreat with solar-heated showers, spacious bathrooms, handcrafted furniture, multiple dining rooms, and even meeting venues. But the best part of all is the gasp-inducing 360 degree views from the hotel's perch 30 feet off the ground in the trees.
To quote Outside Magazine
, "'I joke with guests that over breakfast you can decide whether you want to go surfing or skiing,' says H. Justin Stafford-Wilson, whose father opened the lodge in 2002."
---