Welcome to the Jungle: Lapa Rios Rainforest Ecolodge
---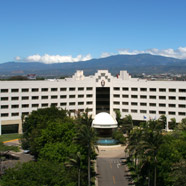 Ecotourism is defined as "responsible travel to natural places, which conserve the environment and sustains the well being of the local people." With today's current trend towards preservation and enviromental protection there is quite a bit of interest in finding hotels that aim for sustainable tourism as well as "green luxury." A great example of this is
Lapa Rios
, a resort spread over 1,000 acres of Central America's last remaining lowland tropical rain forest in Costa Rica. This private nature reserve goes by the notion that "a standing rain forest is more valuable than one cut down." Some things that Lapa Rios does to make it both luxurious and earth-friendly include decking out the beautiful bungalows with locally made bamboo furniture, assisting the local community by providing basic education and job training for employment at the resort, and using locally caught fish and seasonal organic produce at the gourmet
Restaurant Brisa Azul
.
Guests can enjoy lots of great rain forest and ocean activities, including whale watching, interpretive hikes, and ocean-mangrove boating trips. Opened since 1993, Lapa Rios has already won many social and environmental awards, and proves to be a top destination for honeymooners looking to experience something intimate and different.
Perhaps the only draw back may be Lapa Rios's location, as getting there can prove to be an experience all its own. Guests fly into San Jose, and then take a 45 minute flight on either Nature Air or Sansa to Puerto Jimenez. At Puerto Jimenez, not only will they find the Lapa Rios office, but also a 4x4 Lapa Rios safari truck that will take them the rest of the way to the property.
If you have plenty of time allotted to visit Lapa Rios, then it may be a good idea to begin and end your trip with a stay at the Intercontinental Real Costa Rica in San Jose, (pictured) where a deluxe room will run you under 200 USD a night. Think of it as your transition from city living to green luxury, a perfect way to get in tune with your natural rhythm before your adventure begins!
---