Tiger Tracks: Melbourne, Australia Hotels
---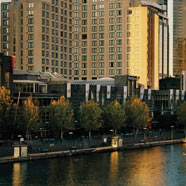 In a former life, I spent a week working in Melbourne, Australia. At that time, I was hardly enjoying the high life like recent tabloid fodder, Tiger Woods. But the world's most famous athlete, and a man known for his refined taste, had many more options for
luxury hotels in Melbourne
than when I first ventured to the South coast city.
I'm an outspoken fan of the Langham Hotel Melbourne, positioned alongside the Yarra River with breathtaking views of the Melbourne skyline. While the Langham certainly offers luxury in abundance, our favorite golfer, Tiger Woods, has been rumored to prefer the Crown Towers Hotel, a place known for luxury in its own right.
So wherever you stay, just remember you could be following in Tiger's tracks, surely one of the world's most celebrated luxury hotel connoisseurs.
---