The Langham Auckland Will Bake You a Cake
---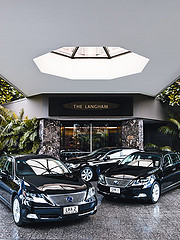 Talk about five-star service.
The Langham Auckland
even provides guests with a bespoke cake service. The Langham chefs can cook up a cake personalized for your special occasion, whether it be a wedding, birthday, or anniversary, with various flavors and ornamentation, like edible sugar flowers, decadent chocolate cigars, and hand-made sugar roses. Perfect for birthdays, the "celebratory cake" requires 48-hours notice. The other cakes-- like the French Croquembouche made entirely of profiteroles-- require more time. Priced from NZ$85.
Speaking of sweets, The Langham has a delicious offer right now where "your better half dines free." Invite a guest for a meal on the house at the award-winning SBF Brasserie. You'll get a voucher for a matching buffet meal (breakfast, lunch or dinner).
Pictured here: The fleet of luxury Lexus hybrid limousines awaiting guests at The Langham Auckland. Driven by experienced, gracious drivers, the limos can shuttle you around town in luxurious comfort.
---