The Intercontinental Nanjing: The World's Tallest Hotel?
March 23, 2006By: Mary Winston Nicklin
---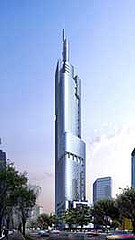 When it opens in 2010, the 450-room luxury hotel will be the tallest in the world. Intercontinental recently signed a deal with Shanghai Greenland Group, one of the leading real estate and property management companies in China, which will add more hotel rooms in Shanghai and Xian, as well as the hot Intercontinental Nanjing. To be located within the Nanjing International Financial Center, the world's tallest hotel will boast pool, spa, dining, and excellent conference and business facilities. Take that, Dubai.
---
Related Hotels