The Claridge Hotel: European Charm in the Heart of South America
---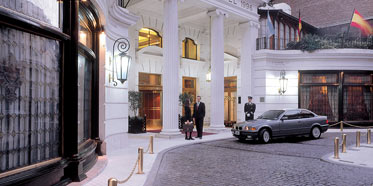 Buenos Aires (simply B.A. to its close knit ex-pat community) has long been hailed as South America's answer to a European city. Winding streets, flavorful cuisine, and some of the world's finest wines surely echo the Old World's calling cards on the other side of the Atlantic. But with a favorable rate of exchange, Argentina's exciting metropolis can offer all of that European luxury at accessible prices.
The Claridge Hotel, situated only a half-hour's drive from Ezeiza International Airport and only steps away from the Plaza de Mayo, is the premier B.A. location for your next South American adventure, whether on business or simply indulging in the tango rich delights of Argentine culture. The Claridge's simple calling card: a dedication to top notch service and hospitality. A simple recipe for success, and one that will make your next visit an exciting and memorable one.
Follow Five Star Alliance on Twitter!
---