Sneak Peek: The New York Times Checks Out DC's Dupont
---
Luxury hotels in DC
seem to be sprouting up like spring flowers.
The New York Times
has reviewed one of these great new properties,
The Dupont.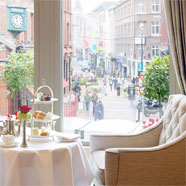 (Available to book online at
Five Star Alliance
in the very near future). The hotel, formerly known as Jurys Washington Hotel (part of the Doyle Collection, along with Dublin's
The Westbury Hotel
, pictured) doesn't have its official opening until later this summer, but the Times found the part that was up and running to be delightful. Large bathrooms, great location (it's the only hotel actually on Dupont Circle) and a "cool and modern (but not aggressively modern) style" were all noted in the very favorable review.
---