Shangri-La Tanjung Aru Resort in Kota Kinabalu, The Gateway to Borneo's Rain Forest and Marine life
---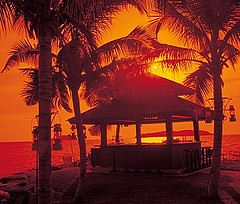 The Wall Street Journal recently checked out Kota Kinabalu
, the capital of the Malaysian state of Sabah on the island of Borneo. This off-the-beaten path locale offers a plethora of exciting activities and diverse landscapes:
Nearby Mount Kinabalu, at 13,435 feet, is one of Southeast Asia's tallest peaks and offers trekkers everything from rugged mountain climbing to easy hikes, with a wealth of flora and fauna along the trails -- don't miss the carnivorous pitcher plants. From there, it's a short drive to Poring Hot Springs and its rope-and-plank canopy walk for an up-close glimpse of the rain forest at more than 100 feet above the jungle floor. Afterward, unwind earthbound in the sulfur hot pools -- reputed for their healing benefits. For wildlife, take a river boat through the Klias Wetlands, a two-hour drive from Kota Kinabalu, where it's easy to spot Borneo's unique long-nose proboscis monkeys as they gather in the trees along the banks in late afternoon. Snorkelers and beach lovers can rent a boat and hop around the islands that make up the Tunku Abdul Rahman marine park -- 20 to 30 minutes off the coast of Kota Kinabalu.
The Wall Street Journal praises the Shangri-La Tanjung Aru Resort and Spa as the area's best hotel, just a 10-minute drive from the airport, where you can grab a cocktail at the "aptly-named Sunset Bar" and drink in the "view of pink and purple skies as the South China Sea swallows the sun."
---