"See Dubai Before You Die": Check into the Palm Tree Court and Spa
---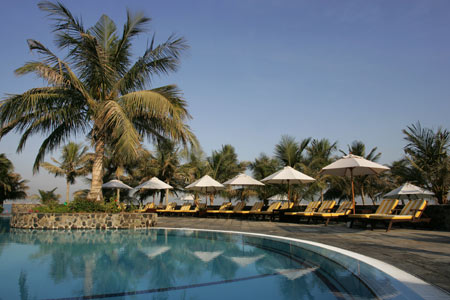 A recent
article in The Telegraph (UK) "chronicles
the endless possibilities for fun days and hot nights in the expat hotspot of the UAE, Dubai." The author's conclusion? "See Dubai Before You Die." Of all the places to stay in this over-the-top tourism destination in the desert, you can't go wrong with the 128-acre Jeleb Ali Golf Resort and Spa which recently finished a five-month refurbishment:
She truly is a classy, sassy oasis in this part of the desert, just a rapid free transfer to downtown Dubai. Close enough to be near. Far enough away to be relaxed and refreshed among the peacocks (a gift from the Maktoums) and other exotic flora, fauna and wildlife. The warm and welcoming staff are ultimately friendly, yet unerringly discreet (damn it). Tiger Woods came alone a while ago (probably not for long though) as he visited his "TigerWorld" development of palaces (really!) and signature golf course not far away. And the world-class sporting facilities, including a nine-hole golf course, marina, dive centre, horse-riding complex and spa have attracted sporting clubs, including English premiership sides, to the resort for warm-weather training. It's split into two. The Jebel Ali Hotel and the Palm Tree Court and Spa. Both are faultlessly five star and rightly lay claim to the title of "Dubai's Only True Resort." The food here is fantastic, from any of the dozen or so restaurants, including the award-winning French-inspired Signatures and La Fontana where a sumptuous breakfast buffet sets the day alight. And no matter in which part you stay, you are never more than a minute or two's walk from a private beach of bleached sand and the gently lapping Gulf.
Note: The all-inclusive package at the Palm Tree Court and Spa includes meals at any of the resort's 15 restaurants-- a deal The Telegraph's journalist would not doubt heartily endorse.
---