Privately Owned VIP Jumbo Jets and the Boeing 787 Dreamliner
---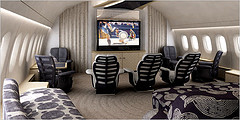 Forget the plush Gulfstream G5 or Global Express of the private jet world. The super-rich are opting to upgrade to ultra-luxurious VIP jumbo jets. As profiled in the NYT:
This is about big, long-haul airliners that are converted to private jets and can carry not only pampered passengers and their entourages, but also, in some cases, their Rolls Royces and racehorses. These are specially equipped, privately owned jumbo jets — the kind that normally carry as many 300 to 400 passengers — but reconfigured with interiors designed for the enjoyment of, at most, a couple of dozen.
The newest, coveted jet on the market? The Boeing 787 Dreamliner, which seats 210 to 330 passengers as a commercial airliner but is configured with 35 seats under a new "V.I.P" design, and priced starting at $150 million.
Even though the first deliveries of the 787 are not expected until 2008, industry experts say that marketing interior design plans now makes sense because there is always great interest in the next big thing at the highest end of the luxury private jet market. Ordering now ensures getting into the front of the line for a private 787, fully loaded, they say.
Better get crackin'. But be prepared to tack on another $50 million for the fully-loaded interior.
---