Nuit Blanche Returns to Paris this Weekend
---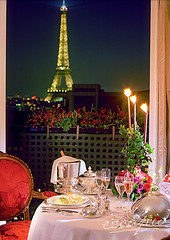 This Saturday, October 6, 2007 Paris will remain open all night for its annual cultural extravaganza. What a way to pull an all-nighter! From sun-down to sunrise, the grand museums, churches, historical sites (and even swimming pools) of Paris
will remain open and free to the public
. Visitors can even enjoy the palace of Versailles under moonlight. The city obliges with free transport (shuttle buses, and there's always the cool,
free bike service
). Night owls will go gaga over the nocturnal contemporary art exhibitions and music concerts in these exciting venues. This year's
Nuit Blanche
is dedicated to Ingrid Betancourt, the politician and activist held hostage by the FARC in the Colombian jungle since 2002.
---