Luxury on a Grander Scale: The Cove Atlantis
---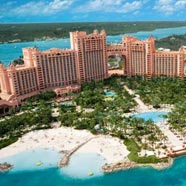 The Cove Atlantis
does what most resorts aim to do: Give you everything you would ever want in a vacation, but on a much larger scale. Grand design and grand architecture are just two of the components that make up this wondrous resort.
The Cove Atlantis
sits atop two of the most beautiful beaches in the world: the Cove and Paradise Beaches. You can enjoy the view from one of 600 over-sized suites spread throughout 22 stylish floors.
There is never a shortage of things to do at The Cove Atlantis. Cool off in the Aquaventure water park, or take your chances and gamble in the Caribbean's largest casino. If relaxation is what you crave, get pampered at the 2,500 square foot Mandara Spa. Begin and end your trip in the Nave, the open-air lobby of the The Cove Atlantis, where beneath a dramatic 35-foot teak ceiling you can feel the energy and spirit of this resort.
---