London: Where to Shop, Sleep and Play
---
London is one of the best shopping cities in the world, with unique boutiques in every district. Want a special guided tour with a great host to help you shop?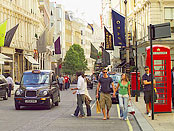 Noteworthy Group helps organize excursions—especially walking tours—of some of the city's most famous shopping spots (think Bond Street in central London) and of the up-and-coming areas. For those interested in the big names, we suggest you opt for a walking tour that goes from Bond Street to the West End with stops in Mayfair (plenty of time to check out the latest from Marc Jacobs and Stella McCartney.) But for those of you out to discover, there's a special trip to the East End, home to many up-and-coming designers and artists with plenty of boutique shops and fairly undiscovered by travelers. Insider Tip: Noteworthy can also arrange for you to have private/VIP closed-to-public arrangements.
Where to Stay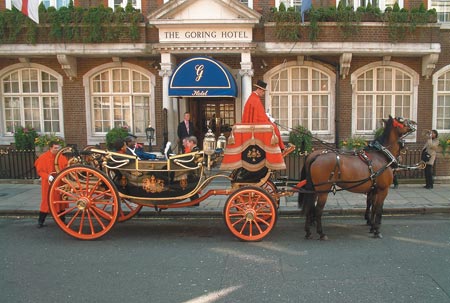 The Goring Hotel, which is celebrating its 100th anniversary, has just been fabulously redone. This one of the largest, privately owned five-star hotels in the world (it has always been run by a member of the Goring family; currently at the helm is Jeremy Goring, the fourth generation to manage the hotel).
Try to snag one of the six newly redone Gainsborough Silk Rooms, they all overlook the property's popular gardens and evoke a sense of luxury that is never overwhelming—just perfectly comfortable. (The rubber duckies in the marble bathrooms are a good indicator of the mix of fashion and whimsy.)
We hear that Suite No. 52, a Belgravia One Bedroom Suite designed by Nina Campbell (she has tailored homes for the Duke and Duchess of York, as well as Rod Stewart), is one of the best picks in the hotel, with a separate bedroom and sitting room and views over Beeston Place.
The hotel is a stone's throw from Buckingham Palace and, as such, was a popular hangout for the Queen Mum. Other members of the Royal Family too have been among the guests here, as has Lady Margaret Thatcher, presidents and—yes—HM The Queen herself.
Ask Head Concierge John Andrews ([email protected]; 011-44-20-7396-9000) to arrange a private two- or four-horse drawn carriage tour around central London, or perhaps charter an original Dunkirk boat for a ride on the Thames with a picnic lunch and Champagne. Andrews can also arrange exclusive private Verger tours of Westminster Abbey. And, of course, all of these tours would be arranged in the utmost of style: Guests traveling around town can request a chauffeur-driven S-Class Mercedes or Bentley Arnage.
 Where to Take Afternoon Tea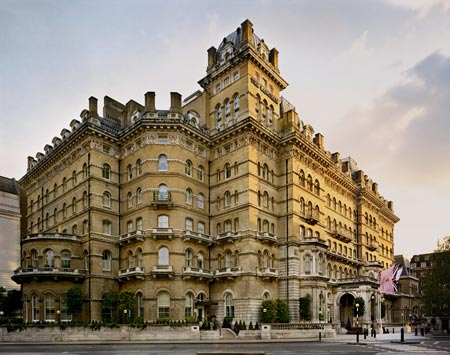 We hear that The Langham's Palm Court has been voted the best place for afternoon tea in London by the Tea Guild.  Competing against dozens of other hotels and tea rooms, The Langham clinched the award after judges succumbed to its "light and airy setting, friendly and efficient staff and excellent selection of scones, sandwiches and pastries." The judges toiled for months in their task, sipping their way across Britain and the capital to pinpoint the best spots. Sixteen other London tearooms were also given Awards of Excellence.
On the menu at The Langham's Palm Court? Finger sandwiches like Smoked Scottish Salmon with horseradish or Hens' Eggs with Secretts Farm mustard cress, Valrhona chocolate éclairs and Langham cupcakes. Indulge in the Bijoux Tea and you'll taste pastry selections inspired by jewelry collections (think Asprey diamonds and Chanel pearls). Seatings for this timeless ritual are at 2 pm, 2:30 pm, 4:30 pm, and 5 pm. (High tea is served from 5-6:30 pm.)
For more information, check out the Palm Court's official website, www.palm-court.co.uk
Where to Dine
Chef Daniel Boulud is opening a branch of NYC's Bar Bouloud May 7 at the Mandarin Oriental Hyde Park in London. The famed chef, known in particular for his three Michelin-starred Daniel in New York, has handed the reigns to executive chef Dean Yasharian and general manager Stephen Macintosh to run the 165-seat bistro.
On the menu: Signature terrines and a charcuterie bar as well as a full bistro menu and an extensive wine list.
For more information visit www.barboulud.com/barbouludLondon.html.
Where to Smoke up a Storm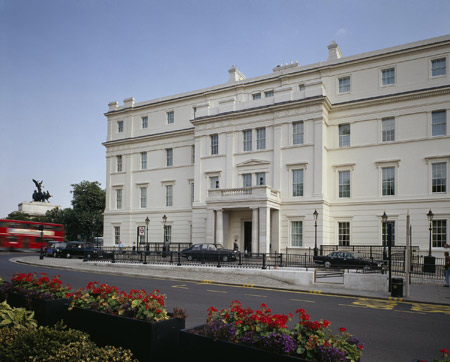 Hot news for cigar aficionados visiting London: The Garden Room at The Lanesborough has acquired a box of the world's most exclusive cigars, the Cohiba  "Behike," some of the rarest and most expensive in the world. (How rare? Only 4,000 cigar sticks have been produced, each one ceremoniously rolled by Norma Fernandez, the renowned cigar-maker at the El Laguito factory in Havana. That's pretty rare.)
The Cohiba "Behike" will be sold for £1,500 per cigar—that's approximately $2,309. Even cooler: The Lanesborough will be the only outlet in the world selling these cigars by the stick.
And while a great cigar can be an experience in and of itself, we hear Bar Manager Giuseppe Ruo offers a wide range of pre-embargo cigars and is on hand to advise guests on how to pair their smoke with a perfect drink.
The new Garden Room at the Lanesborough is an urban retreat in the heart of Kingsbridge, and, with space for just 35 guests, is one of the most exclusive spots in all of London.
 Where to Drink
The Salt Whiskey Bar and Dining Room, proclaimed as The Best Bar in London by Time Out and the Greatest Whiskey Bar of the world by Whiskey magazine, is a hot spot at 82 Seymour Street in the City of Westminster that offers more than 100 malts on its fine menu. Not a scotch drinker? The establishment also serves up several delectable cocktails using gin, rum, vodka and other good stuff.
The dining room has a wide variety of options from Italian antipasti, Moroccan starters and Mediterranean mezze, to oak smoked salmon and steaks.
The bar has also added a "shisha" menu, allowing guests to smoke socially in London's busiest area. There are 15 flavors at Salt. We hear the champagne shisha is a must-try, but the bar also offers the usual fruity flavors.
Nice Touch: There's also a private room upstairs for VIP parties, and, there's live jazz every Sunday.
When to Go
There's more for foodies—and those who think English cuisine consists of fish & chips and corned beef & cabbage. The 2010 London Restaurant Festival will run from October 4-18 (for the record, last year's was just six days). Last year, the London Restaurant Festival featured more than 500 establishments, including the "pop-up" restaurant of chef Pierre Koffmann on the roof of department store Selfridges, which ran for more than seven weeks.
Other events included the biggest-ever Sunday roast cooked by chefs including Fergus Henderson, John Torode and Mark Hix at Leadenhall Market as well as the London Eye Restaurant Capsules, which saw celebrity chef Gordon Ramsay and six other top London chefs transform one of the capsules of the London Eye into a kitchen...Which is really rather impressive, considering how "cosy" the capsules are.
                                                                   By Jena Tesse Fox and Mary Winston Nicklin
---