Kempinski Takes Asia By Storm: New Hotels in China, Jakarta, and Khao Lak, Thailand
---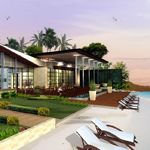 In early October 2006, Kempinski Hotels, Europe's oldest luxury hotel group, will open a new five-star hotel in Shenzhen, China, the Special Economic Zone situated in the Pearl River Delta at the southern tip of Guangdong Province, connected to Hong Kong by a cross-sea bridge. Another hotel is slated for China: Kempinski will open its 380-room Huizhou property— boasting a spa, fitness center, four restaurants, and even a micro-brewery-- in 2008.
In Jakarta, the former Hotel Indonesia is being converted into a Kempinski luxury hotel scheduled to open at the end of 2007. And hot off the press: Kempinski recently announced plans to manage a hotel in Khao Lak, Thailand, the beach resort destination not far from famed Phuket. In the first phase of development, the hotel will open 320 rooms within landscaped gardens and lagoons on a white sand beach in autumn 2007. Phase II, to include 40 pool villas, will be completed in 2009.
By the end of 2009, Kempinski expects to manage a total of 29 hotels in Asia.
---